GO BIG OR GO HOME Ribs Spectacular
Ribs, Ribs are good for the heart, the more you eat the more..you'll want to buy with the
Hog's "Buy Big..save BIGGER" Ribs Promotion!
Let's have a look through the "unofficial" Hog's history of ribs!
Ribs were first discovered by The Flintstones
(You know…The Flintstones..on after school when we had to walk home from school 15 miles through the snow, turn on the TV by pushing the button on the actual TV to the 1 of 3 channels available..sorry kids, here's a WIKIpedia link – https://en.wikipedia.org/wiki/The_Flintstones) 🤣🤣🤣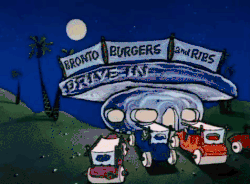 OK, now for some real history – There has always been a bit of a fight between which is the one true tasty, most succulent rib, beef or pork, but for this instance we are going with pork as the king! 👑
Interesting note, the term "spare rib" actually comes from the German Rippenspeer which literally translates to "spear ribs," as this cut was traditionally roasted on a spit or spear…..
Enough of that "learning" stuff, let's get to the good bits!! 😋
Hog's delicious Pork Rib Fingers are lovingly cooked to perfection, then smothered in finger lickingly good hickory smoked BBQ sauce!
These ribs are SO GOOD that 1..kg will not be enough, so we'll help you with that extra kg or two!
The more ribs you buy the more you will save!
Hog's Pork Rib Fingers start at a tiny boy size of 500g, but, go all the way up to BIG BOY 3kg size… or MORE! Hey, at this amount of ribs you challenge us to get them!!
Grab your mates, bring in the crew, challenge the family, grab as many rib lovers as you can…we want to see how many you can eat! Upload your photos, videos, Gifs, what ever you want to #howmanycanyoueat 🏆 🥇 🥈 🥉

This Hog's Ribs Special is available Dine In, Takeaway & Delivery!
As always T&C's Apply -This promotion is for BIG BOYS only, no little boys allowed!
Just Kidding! This promotion is for EVERYONE!
Now, here are the real T&C's – This is a limited time offer and only available at participating Hog's restaurants. This promotion is not valid with Frequent Diner & Hog's Squad Cards or any other offer, discount or promotion. Alcohol is served in accordance with local liquor licensing laws and responsible service of alcohol guidelines.
Ya gotta be quick!!! This promotion only runs from the 6th July 2020
until the 23rd August 2020!!
Hungry right now?!! Find your nearest location here – Hog's Restaurant Directory